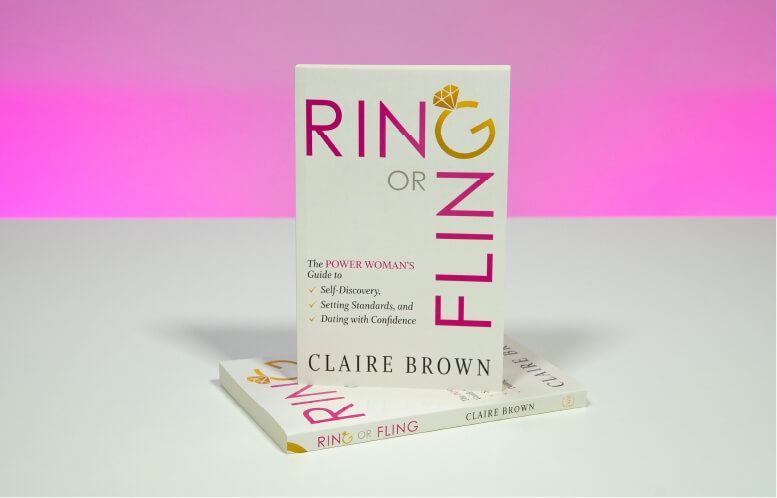 "When women have standards, they stand out. They are passionate, they are building successful careers, they know their value, they rely on their villages of other amazing women to lift them up and set them straight, and they're hotter than the Fourth of July — because they've got confidence rooted in their standards. When they are also single…well, that just makes them the total package" This is the mission of Claire Brown in her new book Ring or Fling.
Claire was the quintessential southern girl, married her high-school sweetheart, had two kids, gave herself over fully to being the best wife and mom…..and then all at once everything shifted. She didn't know who she was without all the titles that were designated to her by society, she had never dated anyone, never got drunk, and had never been with another man. She really needed to get in touch with herself, grow herself, and build herself back up with the titles she wanted to embody, she became a Power Woman.
She had to define her standards. To find connection and support from other women in her personal and professional life, she created the Power Women platform. Join the public Power Women group on social media and, locally, the Little Rock Power Women or NWA Power Women groups. This book is your personal guide through dating with standards, values, and all well written in her southern accent
Ring or Fling: The Power Woman's Guide to Self-Discovery, Setting Standards, and Dating with Confidence is the debut book written by Power Women founder Claire Brown. This dating book for women shares Claire's experience, perspective, insights, and advice on dating with confidence.
Ring or Fling isn't your typical dating book for women. Claire begins by sharing her most important lesson: the power a woman has in dating is the confidence she carries by knowing who she is and what she wants. When approached from this perspective, dating becomes less about trial- and-error and more about adopting a strategic approach for more successful, fulfilling relationships, whether that relationship is "ring" or "fling" material.
RING OR FLING WILL HELP YOU LEARN HOW TO DEFINE PILLARS, OR STANDARDS, RELATED TO SELF-WORTH AND DATING IN THE AREAS OF:
Emotional Maturity
Financial Health
Character and Faith
Attraction and Desire
The Marriage Obsession
Taken together, these pillars will help you better understand who you are and what you want – from life and a date. Once you recognize and accept those standards, you'll find yourself attracting and attracted to those who align with your own standards and values and enjoy improved dating confidence and success. Ring or Fling is available exclusively for Kindle at Amazon.com. Order your copy today and get started on the path to dating success!